---
MTW-1002-rd Custom Bulkhead Flatcar
Red
---
I completed development of this set in early August 2000, have made an initial production run of 10 units in red/black as pictured. A small modification was made to the trucks to enhance realism. I also added "tie down rails" (LEGO tubing) to the clips running from one end of the car to the other.
The item is available for purchase. Here's a picture in red: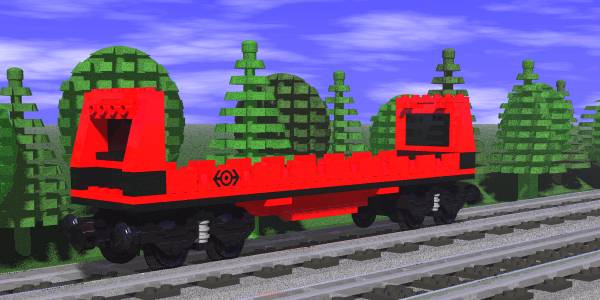 Please note: the item does not come with the <-O-> sticker. At least not at this time.
Other colors may be available depending on parts availability. Please contact me if you're interested.
As with all Milton Train Works models, you get a fantastic set of instructions, featuring cropped views, cutaways, rotations and other nuances to make this a fast and fun build. These instructions, while not TLG quality, are thorough and accurate, and will allow you to quickly and correctly assemble this set. You will received a high quality printed or photocopied set of instructions, as well as all the required parts to create one car.
---